MetLife Stadium, E. Rutherford NJ
MetLife Stadium
Is part of the Meadowlands Sports Complex and replaced Giants Stadium as the home of the Giants and Jets. MetLife Stadium is the first in the NFL to have 2 teams as equal partners, in the ownership and management of a single stadium. Opened in 2010, the outer facade of the stadium changes colors to red and blue for the Giants and Green for the Jets.
1 MetLife Stadium Drive, East Rutherford, NJ 07073
(201) 935-3900 – Main Phone Number
(201) 559-1300 – Box Office
(201) 559-1515 – Guest Services
Opened – 2010
Capacity – 82,566
Home Teams/Events
NFL/NY Giants – www.giants.com NFL/NY Jets – www.newyorkjets.com NFL/2014 Super Bowl XLVIII - www.superbowl.com Major Concert Tours WWE Wrestlemania 2013 – www.wrestlemania.com NCAA Lacrosse
Super Bowl XLVIII
Starts: 02/02/2014 06:30 pm
Ends: 02/02/2014
Duration: 4 hours: and 30 minutes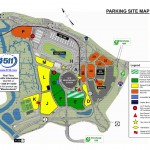 Upcoming Events at MetLife Stadium
Mobile Users: Please visit our dedicated ticket site tickets.wheresmyseat.net for tickets to all events at MetLife Stadium


Images Courtesy of Where's My Seat?